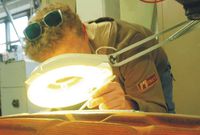 It is very important for us to offer a high and constant quality standard, particularly for the machining of high-grade parts. For this reason, all parts are subjected to our internal test criteria, which are reviewed and improved at regular intervals.
Our customers are welcome to visit us and carry out a supplier audit for their parts. The quality goals and the tests derived from these can then be defined in close cooperation with the customer. It goes without saying that we carefully document all tests.
From production to engineering

We cover the entire spectrum of laser surface treatment and provide support in all the relevant areas:
Preliminary analyses incl. metallography

Pre- and small batch production

Contract manufacturing

engineering
We can therefore provide expert and efficient help to support companies in implementing these processes at their facility. In conjunction with our cooperative partners, we can also offer services extending beyond this, e.g.

Reworking of components

Components for laser surface treatment

Systems for laser hardening and laser metal deposition

Process monitoring and control