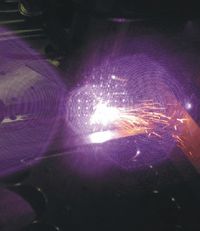 The process is at the centre!
A variety of problems can be solved with laser surface treatment processes, especially laser metal deposition and laser hardening. However, these laser processes require specialised knowledge of process control and the equipment used.

If you are interested in using laser surface treatment for your components, we can help you with well-founded consulting. This can range from a simple informative telephone call to process and feasibility studies lasting several days.

If you already use laser surface treatment processes, we can you offer a support service and help you optimize current processes or also develop and implement process and quality control.