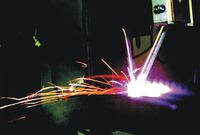 Laser
The laser is the most important piece of equipment in laser surface treatment. We have various beam sources at our disposal, which enable us to work appropriately without reaching the performance limits.
Nd:YAG solid-state laser with 2 kW power output

Nd:YAG solid-state laser with 3 kW power output
Handling systems
Different handlung systems are used depending on the workpiece geometry. Work can therefore always be carried out with the optimum machine.

5-axis CNC turning centre

4-axis CNC milling centre

5-axis CNC portal milling machine (2m x 1.5m x 1m)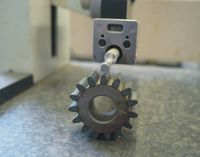 Associated equipment
Apart from the large machines, our equipment also includes various accessories. On the one hand, these consist of several different optical systems, powder nozzles and conveyors which are required for effective welding with inaccessible geometries. In addition to this, we have around 250 different powders in stock, so that we can always use the right material.

Various powder conveyors

Various laser optics

Line scanners (up to 40mm)

Cutting and welding heads

Lateral and coaxial coating nozzles

Approx. 250 different powder alloys and additives

Metrology
Measurement instrumentation
Finally, we have excellent metrological equipment at our disposal, which we require to check the process and the results.

Complete metallography

Various pyrometers and control units

3-D geometry acquisition

Surface metrology
From production to engineering

We cover the entire spectrum of laser surface treatment and provide support in all the relevant areas:
Preliminary analyses incl. metallography

Pre- and small batch production

Contract manufacturing

engineering
We can therefore provide expert and efficient help to support companies in implementing these processes at their facility. In conjunction with our cooperative partners, we can also offer services extending beyond this, e.g.

Reworking of components

Components for laser surface treatment

Systems for laser hardening and laser metal deposition

Process monitoring and control